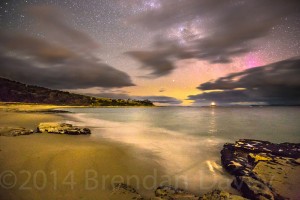 Had one of those nights last night where I could just not sleep, so I decided to head out and see if I could get a nice shot on a beach where I recalled someone had built a makeshift stick "hut".
The beach faced north, so I knew if the Aurora Australis was active I'd have to do at least a 200 degree panorama to get it all in. In the end it was only four shots with my 16-35 lens.
I have titled it "Someones up late".
Shot shows the Iron Pot lighthouse at the mouth of the Derwent River in Storm Bay with Bruny Island to the right (Tasmania). Pictured to the left is a single shot from the same location a little further down the beach.