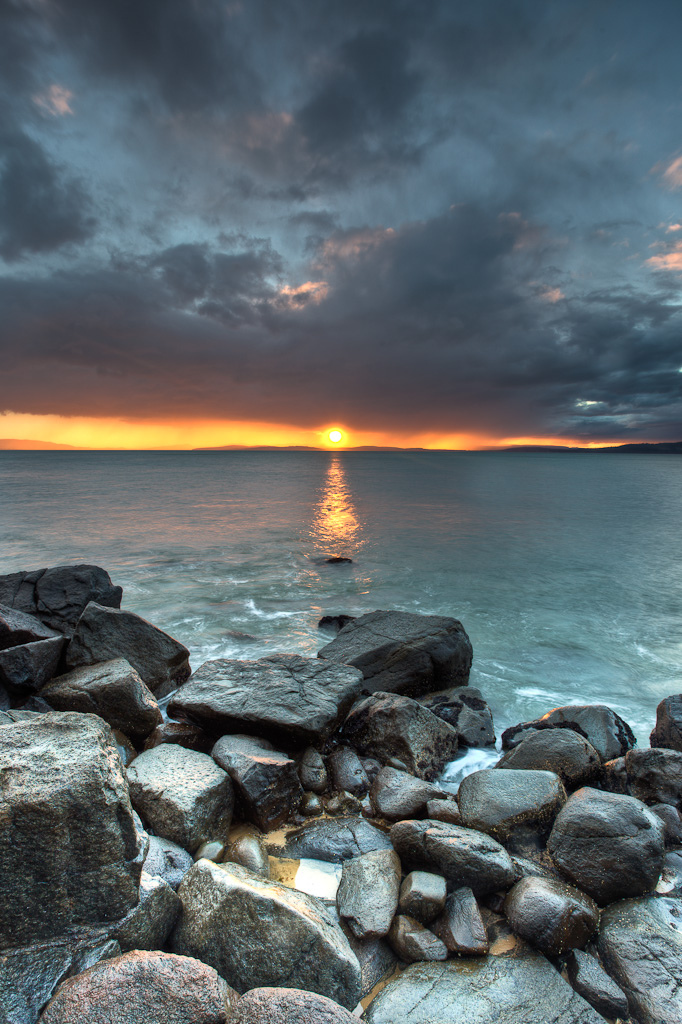 Just how good is the weather sealing on the Canon Cameras?
Well I'm not really sure, but I do know that when I took this shot it was pouring with rain. I had arrived early at Cemorne Beach to take some pictures and had setup my camera and started to take some long exposures. However it was becoming very apparent that it was very likely to rain with a rather black cloud slowing making its way accross the landscape behind me. Eventually the sky opened up and rain came pouring down. I had no umbrella and had to make the choice to either pack up or continue to shoot.
The Canon 5d mark 2 is water resistant right? So I decided to just go with it and stay. With no wind I was getting little or no rain on the lens and I managed to get some good shots. The camera got very wet but did not miss a beat, and it's still going strong a month+ later (after I took it straight home to dry off).
I guess the bottom line is that a lot of people see their camera as a large investment, trying to look after it for resale value or somehow to prolong its life. When in reality it's a tool. How many shots have been missed because they did not want to get their camera wet or dusty. If you camera is well manafactured with a metal body and weather sealing, take the risk, get the shot I say, or at least have equipment to mitigate the risk like an umbrella or rain cover 🙂