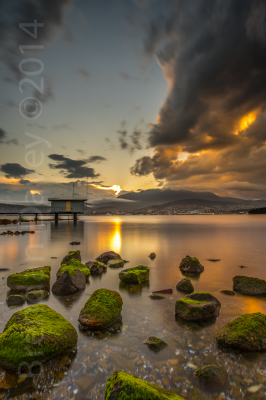 A few years ago when I had a Canon 5D mark II, Nikon's current go to model was the D800; it was the bees knees and I considered making the move. After some testing and comparisons I determined that the D800 still did not have enough to lure me away from Canon, and consequently I purchased a 6D. Primarily because it out performed the 5D mark III in low light, which I still consider to be significantly over priced for what you are getting.
Fast forward Dec 2014. I've been sensor testing for quite a while now, watching all the new models arrive, the new Sony A7, the A7R, the Nikon Df, the D4, and most recently the D750. The D750, touted to be successor to the D700 had a lot to live up to, and since I had used a D700 on a number of occasions in the past and being suitably impressed I was keen to see how it performed.
The D750 blew every other model out of the water for long exposures I had tested. From ISO 3200 the detail that could be pulled from out of the shadows was nothing short of outstanding.
"Could I have finally found a replacement for my 6D?"
I'd been patiently waiting for any sign from Canon that a new affordable model was in the works. All the banter at the usual suspects indicated that a new model would likely be a high mega pixel body, and any replacement for the 6D or 5D was a long way off, and most likely expensive for the latter.
So after some extensive research, I jumped, and this time I can safely say all of my previous concerns have been addressed. Using the D750 so far does feel like a true D700 upgrade, Combined with a good prime (20mm f1.8) it takes truly outstanding shots. (Maybe I'm getting better to).
So far I have only 'tested' it for night work, as I'm still waiting on the right conditions for an Aurora (Australis), but based on the samples I have produced so far I have a strong feeling some fantastic shots will come out the other end of my normal workflow. I'm a firm believer in 'Garbage in, Garbage out' (GIGO), and although the 6D was not garbage, the D750 will have less issues to deal with going into my workflow, allowing me to push images harder to recover more detail without having to deal with a lot of noise.
And of course… the more to the dark sid…err Nikon was not too bad because 'they have got cookies' 🙂